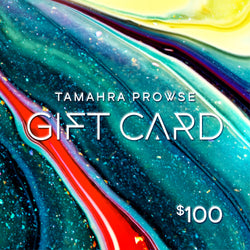 Tamahra Prowse
$100 Gift Card
Give the perfect gift risk free! Jewellery is a very personal thing to wear and own and buying jewellery for another person can be tricky. Take the stress out of choosing the 'right' piece with a Gift Card by Tamahra Prowse. These can be purchased in denominations of $100, $250, $500 or $1000. 

A standard card will arrive in your inbox after purchase. If you would prefer a more personalised e-Gift card experience complete the following steps:
Step 01
Add to cart your preferred denomination Gift Card
Step 02
Enter recipients name and email and gift message in the Order Note field at checkout
Step 03
We will deliver your gift directly to their inbox
Tamahra Prowse jewellery is available online in the sizes listed below.
Other sizing and private commissions are available to order. Please contact us if you would like more information.


RING SIZES
Inside Diameter Millimeters
(MM)

US and Canada

UK, Europe and Australia

Switzerland

Asia
(HK, China, Singapore,
Taiwan, Japan)

14.1

3

F

4

4

14.3

3.25

F.5

5.25

5

14.5

3.50

G

 

 

14.7

3.75

G.5

6.50

 

14.9

4

H

 

7

15.1

4.25

H.5

7.75

 

15.3

4.50

I

 

8

15.5

4.75

I.5

9

 

15.7

5

J

 

9

15.9

5.25

J.5

10

 

16.1

5.50

K

 

10

16.3

5.75

K.5

11.75

 

16.5

6

L

12.75

11

16.7

6.25

L.5

 

12

16.9

6.50

M

14

13

17.1

6.75

M.5

 

 

17.3

7

N

15.25

14

17.5

7.25

N.5

 

 

17.7

7.50

O

16.50

15

17.9

7.75

O.5

 

 

18.1

8

P

17.75

16

18.3

8.25

P.5

 

 

18.5

8.50

Q

 

17

18.8

8.75

Q.5

19

 

19.0

9

R

 

18

19.2

9.25

R.5

20.25

 

19.4

9.50

S

 

19

19.6

9.75

S.5

21.50

 

19.8

10

T

 

20

20.0

10.25

T.5

 

21

20.2

10.50

U

22.75

22

20.4

10.75

U.5

 

 

20.6

11

V

 

23

20.8

11.25

V.5

25

 

21.0

11.50

W

 

24

21.2

11.75

W.5

 

 

21.4

12

X

27.50

25

21.6

12.25

X.5

 

 

21.8

12.50

Y

28.75

26

22.0

12.75

Z

 

 

22.2

13

Z.5

 

27

22.4

13.25

 

 

 

22.6

13.50

Z1

 

 
We are available from 9am to 5pm, Monday to Friday, Australian Eastern Time (UTC+10:00). If you're in Sydney or Wollongong, we would be happy to discuss the possibilities over a coffee. And if you're not, we can liaise via email or Skype. Our postal address is PO Box 60 Austinmer 2525 NSW. Email: info@tamahraprowse.com
Say hello x